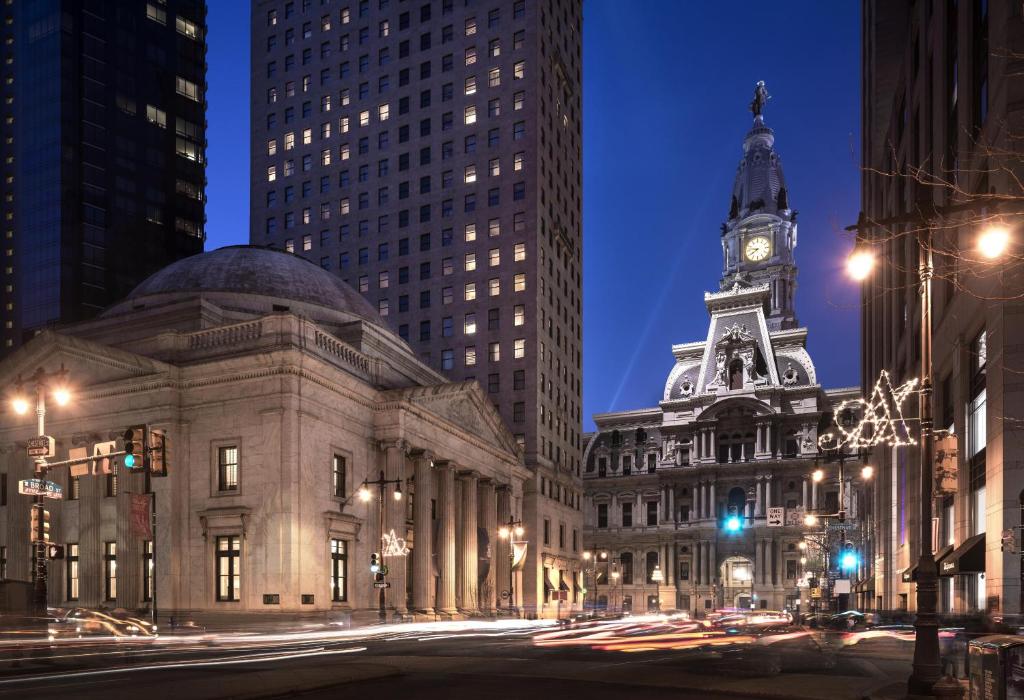 Best Luxury Hotels in Philadelphia 2022
The Wall Street Journal described the city as both a "historic juggernaut" and a "booming cultural and culinary destination". Philadelphia's heritage is important to the United States, but more recently it has established itself as a modern destination with many new attractions. It's also been a popular filming location for decades. This makes it a place of means and many luxury hotels have sprung up following a proliferation of wealthy visitors looking for quality accommodation. All the big names in the chain are here, along with an interesting array of independent establishments, making the most of Philadelphia's skyscrapers and historic architecture.
Four Seasons Hotel Philadelphia at the Comcast Center
The Comcast Center rises 60 stories and 1121 feet into the Philadelphia skyline. The Four Seasons occupies the building from the 48th floor, guaranteeing guests incredible views (that's the highest elevation you'll reach in a North American hotel). 180 rooms and 39 suites feature floor-to-ceiling windows, app-based technology, smart controls, and Guerlain toiletries. The crystal-encrusted health and wellness center is on the 57th floor, complete with Peloton bikes and a dreamy pool. It also houses a restaurant and bar on the top floor with a huge glass atrium, another seafood restaurant and a house car for guest use.
The Ritz-Carlton
Located in one of Philadelphia's aforementioned historic buildings, The Ritz was once the Girard Trust Bank. Thus, the public spaces are grand and imperious, with 301 rooms taking on a softer, more contemporary feel. The Richel D'Ambra Spa & Salon is highly respected in beauty circles and there's a Latin American restaurant in the lobby, to tantalize your taste buds. As there is only one restaurant, if you want access to another lounge (with free food), you will need to book a club suite. Though the hotel may appear formal, it offers a relaxed approach to families, with an Ocean Futures kids' club offering environmentally-themed activities.
The Rittenhouse Hotel
Named after its location just off Rittenhouse Square, the Rittenhouse is a pet lover's paradise – custom bowls, treats baked on site and bookable dog walkers or sitters, make sure Fido is too. pampered than you. Meanwhile, humans can get their share of indulgence in the sleek, contemporary spa and pool. 118 rooms are, on the other hand, decorated in a more classic style at the Forbes Four-Star hotel, some with four-poster beds. Guests can feast on five-course tasting menus at the Rittenhouse's Lacroix gourmet restaurant, or eat at one of three other venues.
The Logan Philadelphia, Curio Collection By Hilton
Another hotel taking its name from an adjacent square (itself named after statesman James Logan), this hotel is in the center of town. Art is prominent here, with carefully selected works hung throughout the building. 391 rooms — with a minimum of 400 square feet of space each — are decorated in dark grays and whites, with a pop of color coming from soft yellow logo detailing. Larger suites include luxuries like private balconies, large dining areas, pool tables, grand pianos, and panoramic city views. Four food and drink establishments are on offer, with small plates served at the ninth-floor rooftop bar and restaurant and there's an underground spa.
Check availability and prices