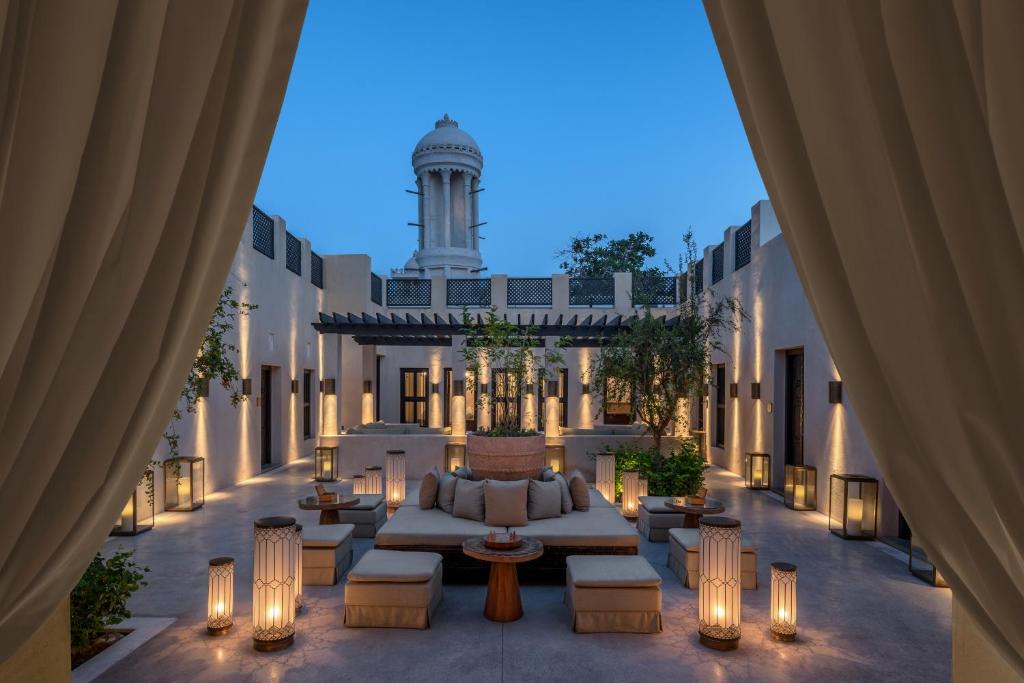 Best Luxury Hotels in Sharjah 2021
It is less well known than its two more populous Emirati counterparts, Dubai and Abu Dhabi, but Sharjah is actually the artistic capital of the United Arab Emirates. Rich in museums and galleries, it is a cultural hotspot, recognized by UNESCO, and has vast archaeological sites further afield. It also has plenty to keep the kids entertained, including a butterfly house and the Sharjah Desert Park. The city is located on the coast, which also makes it a wonderful alternative beach vacation. Here are our top places to stay in Sharjah.
Chedi Al Bait, Sharjah – A Ghm hotel
This hotel underwent a complete rebranding in March 2020 and is housed in a cluster of heritage homes. These buildings have been reused from their former roles as private residences, but have been well preserved to retain their character. With its own museum, cigar lounge, and jewelry store, the Chedi Al Bait is quite unusual. 53 elegant rooms are decorated in a contemporary Arab and Asian style. There are two restaurants, one offering international cuisine, the other specializing in gourmet cuisine served as a family. Both have indoor and outdoor seating. Sip Turkish coffee at the cafe and sample sweet treats at Al Bareed. The hotel also has a spa, offering holistic Middle Eastern treatments.
Check availability and prices
Sheraton Sharjah Beach Resort & Spa
The city's newest resort falls under the Sheraton International Banner, making it popular with Western visitors looking for an international vibe with five-star facilities. It's also a family choice, offering babysitting services, a kids' club, game room, and a dedicated pool for guests with children. The Sharjah Beach Resort & Spa also has 349 rooms, a private beach, another outdoor swimming pool, a gym, a beach grill, a seafood market, a a buffet restaurant, cafe and cigar lounge. Although this is a cosmopolitan hotel, there is a lot of Arab influence, especially in the decorative accents. Some rooms have balconies and sea views, while the upper room – the Presidential Suite, is a palace affair with three bedrooms and a private pool.
Check availability and prices
Pullman Sharjah
This ultra-trendy hotel puts you in the heart of the cultural action of the Al Taawun district. Rooms here have an urban-chic style, with plenty of modern amenities, such as Bose wireless music players, huge TVs, dining areas (even in the Standard Room category), and Roger bath products. & Gallet. Coffee is served in the lobby bar, while the Al Khan Restaurant offers live cooking stations and an adventurous menu served day and night, as well as frequent all-you-can-eat seafood banquets. Fresh juices and snacks can be enjoyed by the infinity pool during the day, and guests have access to the spa and fitness center.
Check availability and prices
Kingfisher Retreat Sharjah
Offering something completely different, this resort is actually located on an island, off the coast of the city. Here, wildlife, including turtles, birds, and gazelles, roam the Eden-like ecological setting. Guests arrive via a private speedboat and are accommodated in 20 luxury tents, each with its own private oceanfront pool. Earthy hues encourage a sense of homecoming, without compromising on comfort. Healthy and organic cuisine is served indoors and outdoors at Al Qurm, or tailor-made in-room dining alternatives can be arranged. The Kingfisher Retreat also has a small spa and direct beach access. access.
Check availability and prices