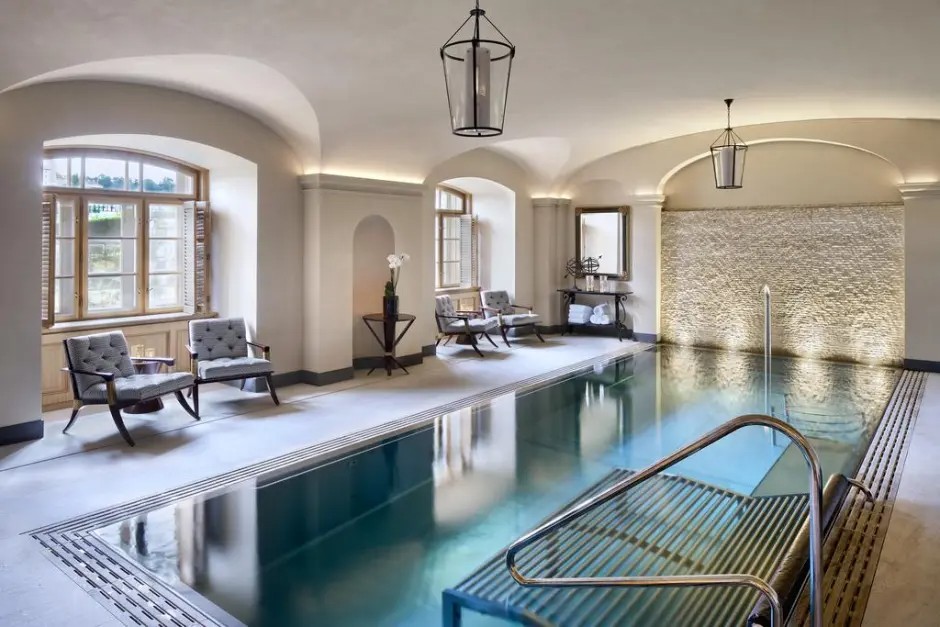 Best luxury hotels in the Czech Republic 2022
The Central European country was once known as Bohemia and certainly retains a bohemian flair, especially in its immensely popular capital city of Prague. Many flock here for city breaks, to see the stunning architecture, medieval old town (a UNESCO World Heritage Site) and to enjoy great value food and drink. Indeed, the Czech Republic is a top destination for beer drinkers and home to some of the best breweries in the world. But there's so much more to see further afield too, with beautiful places like Krkonoše National Park, Rešov Waterfalls, the spa town of Karlovy Vary and countless fairytale castles.
prague
Four Seasons Prague
This hotel is strategically located, making it the best choice for high-end tourists or business travelers. Located on the banks of the Vltava River, it has some of the best large suites with magnificent views of Prague Castle. It is also a short distance from Old Town Square and Charles Bridge. The hotel has 157 rooms, including 19 suites. They are all of different sizes and styles, spread across the hotel's four structures which include Classical, Modern, Baroque, and Renaissance buildings. Its spa is one of the best in Prague, and the establishment also has steam rooms and saunas, a vitality pool and a large relaxing lounge area.
Mandarin Oriental Prague
Located in a quiet place in the old Little Quarter of Prague, it can be ranked among the best luxury restaurants in Prague. Baroque and Renaissance buildings add to its tranquil surroundings. As it is located in the heart of the city, those who stay there can easily explore all the highlights of the city which are within walking distance from the hotel. The hotel has 99 rooms and suites decorated with style and luxury, in royal blue tones, designer furniture and warm sand. They also offer beautiful views of the well maintained courtyard garden. Some also offer rooftop views. Other facilities include a sauna and relaxation area, an on-site restaurant and a gym.
The Palace Art Hotel
This hotel is both cozy and plush. Its colorful interiors were designed by Veronika Jurkowitsch and feature plush armchairs, chandeliers and contemporary artwork. Although the hotel is very old and has small rooms, they are all full of character. They also focus on wellness through a spa and health club that offers 20 luxury treatments. The hotel is popular for its Czech and international haute cuisine which visitors can enjoy while having a great view of the city.
Golden Well Hotel
This peaceful Golden Well hotel is beautifully decorated, making it one of the best in town. It sits beneath Prague Castle right next to its rose gardens, providing a haven of peace in the heart of the city. The hotel is within walking distance of some of Prague's best sites, such as the Royal Gardens and Old Town Square, among many others. It has 17 elegantly designed rooms and 2 suites, making it a small, luxurious establishment where the staff ensures that all guests are as comfortable as possible. All rooms have an iPod, Illy coffee machines and an iPad.
Hotel U Prince
This is another luxury hotel that offers iconic views from its patio. You can contemplate the old town hall while listening to live jazz music. Their rooftop restaurant also serves mouth-watering international dishes and romantic city views. The building dates from the 12th century and has a winding interior which is complemented by restored antiques and frescoes.
The Emblem Hotel
This hotel is just 293 meters from the Old Town Square. It offers free Wi-Fi and its rooftop terrace offers picturesque views of central Prague. The front desk is available 24 hours a day and all units at this hotel are equipped with air conditioning, a flat-screen TV and a private bathroom with a bathtub. They also have Nespresso machines and free toiletries in their units. All guests also enjoy free access to their gym, hammam, relaxation area and sauna. The roof terrace has a hot tub that can be booked for an additional fee. The Emblem Hotel also has valet parking just a 5 minute walk away. Guests can enjoy their daily breakfast and dinner buffet or visit the American Steakhouse.
Carlo IV, the Dedica anthology, autograph collection
This hotel is made up of two buildings, the modern part of which is furnished in a contemporary style, while the historic part has high ceilings and decoration dating from the 19th century. All of its rooms have air-conditioning units, minibars, and TVs. The bathrooms are equipped with a bathrobe, free toiletries and a hairdryer. Their spa area includes a hot tub, indoor pool, Turkish bath, saunas and massages. Guests can enjoy modern Czech and international cuisine in their Salon restaurant. The historic lobby also offers free Wi-Fi while the hotel's underground garage offers secure, private parking.
Augustine, a Luxury Collection Hotel, Prague
This hotel is a short distance from Charles Bridge and Prague Castle. It has 7 suites, including a large presidential suite, a honeymoon suite and the fresco suite. The Honeymoon Suite offers guests a 360 degree view of historic Prague. This property also has an on-site restaurant that serves local cuisine. Guests can also enjoy free Wi-Fi, iPod docking stations, coffee machines, and flat-screen TVs. Rooms also have beautiful marble bathrooms, most with walk-in showers.
Brno
Hotel Barcelo Brno Palace
Located on Silingrovo Square opposite a tram stop, the Barceló Brno Palace is a five-star hotel housed in a large white building. The lobby is truly breathtaking – five stories with internal period windows are topped by a glass atrium roof allowing light to flood in, showcasing the gleaming floor and striking modern furnishings below. There are an abundance of excellent restaurants nearby, but the hotel has its own dining rooms with a mix of classic and contemporary style. The rooms are equipped with bathrobes, air conditioning, a minibar and a choice of pillows. The Barceló Brno Palace hotel also has a fitness center and a lounge where you can relax with a drink.