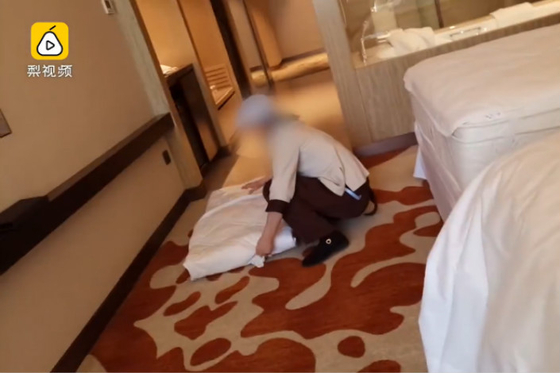 Five-star hotels again accused of improper cleaning
Five-star hotels in China, including a Shangri-La and a Sheraton, are again mired in health scandals, after their housekeepers used the same brushes to clean water glasses and toilets.
The city government of Harbin – the capital of northeast China's Heilongjiang province, where the hotels involved are located – confirmed on Wednesday that such missteps had taken place and that they would punish the hotels.
The scandal erupted after online video news site Pearvideo sent undercover personnel to film room cleaners at the city's Kempinski, Shangri-La and Sheraton hotels.
At the Kempinski Hotel, a cleaner used the same brush to clean water glasses and toilets, and wet a bath towel with toilet water to wipe the floor. At the Shangri-La, an employee cleaned the tub with a toilet brush and said, "When the customer is there, don't brush like that. At the Sheraton, a housekeeper folded a comforter on the floor.
The Harbin Kempinski said on its Sina Weibo social media account that it "deeply regrets" the transgressions and has strengthened safeguards to ensure all staff are working to the highest hygiene standards.
Shangri-La Hotels and Resorts Group told Caixin it is investigating the issue, and if the video shows what is alleged, it is "unacceptable" and the company will immediately step up training and supervision and take action. will ensure that all employees meet its quality standards. .
The Sheraton Harbin Xiangfang Hotel said on Sina Weibo that it was "deeply sorry" that some employees did not strictly adhere to sanitation standards and retrained all of its staff on Wednesday.
This is the second case in three months of poor sanitation management in luxury hotels in China. In September, the Intercontinental Beijing Sanlitun, Hilton Beijing, W Beijing Chang'an, JW Marriott Beijing and Shangri-La Hotel Beijing were found not to be cleaning hotel rooms properly between guest stays. .
The issue has also raised concerns about heavy workloads and low pay for hotel staff.
In the video from Harbin, a Kempinski housekeeper said her work schedule was very busy, which made it difficult to clean the rooms properly. "But (the workers there) can't tell (the others)," she said.
Since hotels aren't allowed to install security cameras in rooms, managers can only judge cleanliness through post-cleaning inspections, said Wu Ben, an associate professor at Fudan University's Department of Tourism. who teaches hotel management.
Wu said the main problem is that even five-star hotels find it difficult to hire highly qualified staff due to their attempts to cut labor costs.
Contact reporter Coco Feng ([email protected])
You have accessed an article accessible only to subscribers
SEE OPTIONS