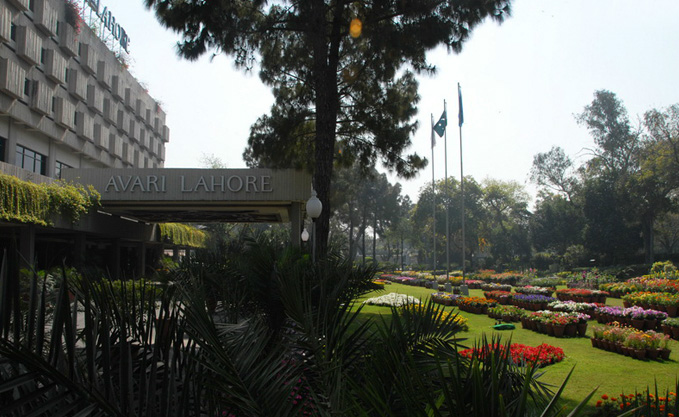 Five-star hotels lay off staff as business plummets
KARACHI:

Pakistan faced the first known economic victim of COVID-19 as the five-star hotel industry reported notable job cuts following room occupancy rates plunging to near zero and fears of closing for the moment.
In addition, sales of petroleum products at service stations have declined significantly due to a full lockdown in Sindh for 15 days from March 23 and a partial shutdown in Islamabad and other provinces in order to " prevent the spread of the infectious coronavirus. Major textile exporters have temporarily closed factories, though many are located in Faisalabad, Gujranwala and other parts of the country where full lockdown orders have yet to be issued. "Staff have been sent on paid annual leave," said a manager of Beach Luxury and Avari Hotels.
"We have cut jobs by around 20%," a senior executive officer of the Hashoo group's international hotel chain (Pearl Continental and Marriott hotels) confirmed to The Express Tribune.
"The room occupancy rate has fallen to just 3%," he said. "We are currently going through the worst financial crisis. This is the first time in history that we don't have enough finances to pay monthly salaries. This has never happened in our history.
"They (staff members) are not sent home temporarily, but permanently," he said. "We are concerned that we will have to close the hotels. Market players point out that the high-end hotel industry, which relies mainly on international visitors, is worse off and layoffs have been carried out on a large scale.
The official said layoffs had been carried out in almost all departments, including well-paid senior management employees as well as housekeeping, food and drink. and room service staff.
"We were already facing a difficult situation before the coronavirus pandemic. The epidemic has hit the hotel industry hard, "he added. The manager of Beach Luxury and Avari hotels added that staff members have been put on leave as their annual leave has accumulated over the years since they had worked there for decades.
"We have no history of layoffs. Management paid salaries to staff even when one of the hotels had been closed for about three years, "he said.
Major textile exporters, including Masood Textile and the listed company Interloop Limited, which makes socks for leading international brand Adidas, have closed their factories, according to a private television station.
A source from the textile industry, who spoke on condition of anonymity, said: "Major textile exporters have closed factories in accordance with the international lockdown. Adidas has asked Interloop to stop production in order to protect workers from the coronavirus. "
International buyers have delayed receiving orders for textiles from Pakistan. "They will take deliveries when their markets reopen," he said. "It is very difficult to predict how long the world will take to control and eliminate the virus. Former All Pakistan Textile Mills Association (Aptma) vice president Asif Inam said a majority of international buyers have not canceled export orders given to Pakistan but simply delayed them. in order to deal with the situation caused by the lockdown in many countries.
"About 99% of textile export orders (data in Pakistan) will be delivered once the situation normalizes in the United States and Europe," he said. "China, the second economy where the virus first appeared, has resumed production at around 90% of factories. "
Pakistan is not in as bad a situation as in Europe. "The lockdown (partial or full) will help deal with the situation in the country," he expressed hope.
An official at a large oil marketing company said the sale of petroleum products had declined dramatically, especially in Sindh, where the government imposed a full 15-day lockdown to control the spread of the virus.
However, he said, "I can't quantify the drop in sales because I don't have the actual numbers."
The Punjab government was also considering a full lockdown in a day or two, the official said. "Punjab and Sindh are the two largest provinces where oil is sold in large quantities. "
Posted in The Express Tribune, March 24e, 2020.
As Business on Facebook, to follow @TribuneBiz on Twitter to stay informed and join the conversation.