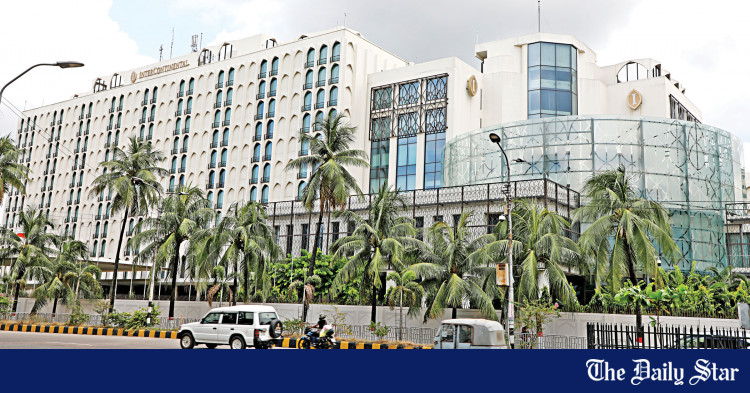 Luxury hotels are recovering thanks to local customers
Luxury hotel businesses in Bangladesh are on course to recover to pre-pandemic levels, with local customers playing a vital role in renting rooms, hosting a slew of events and sourcing food prepared by their restaurants.
People's propensity to avoid crowded areas, high income of part of society and social media drives local customers towards hotel services.
The four listed companies with hotels recorded better year-on-year performance during the period from July 2021 to March 2022, especially with regard to the two annual Eid holidays.
Unlisted businesses also experienced better occupancy, more restaurant traffic and a large number of events.
"In some cases, we have completely rebounded, say, like in the restaurant business, but we are yet to return to pre-pandemic levels in all areas," said Shahidus Sadeque, director of marketing and business promotion at InterContinental Dhaka.
Foreign travelers are still not arriving in the same numbers as in 2019, but domestic consumption has skyrocketed so that 30 to 40 rooms are occupied daily by local guests and this increases on weekends, he said. -he declares.
"We created demand by offering attractive packages and it worked well," he said.
Social media also encouraged local customers to book rooms and dine at high-end restaurants, he said, adding that a large number of rooms were occupied during the Eid holiday.
Bangladesh Services, the company that owns InterContinental Dhaka, InterContinental Dhaka Balaka Executive Lounge and Bangabandhu International Conference Center recorded a profit of Tk 24 crore in the July-March period of the 2019-20 financial year.
In contrast, it suffered a loss of Tk 81 crore in the same nine months of the following financial year.
However, in the nine-month period of FY 2021-22, its business improved slightly with the loss reducing by 8.4% to Tk 74 crore, its financial report shows.
Worldwide, the hospitality and tourism sectors are two of the sectors most affected by the pandemic.
Due to closures, restrictions on the movement of people, international flights and holding events, hotel business was hit hard during the year, he said.
Radisson Blu Dhaka Water Garden Sales Manager Mohammad G Jisan said their business has increased significantly.
At the start of the pandemic, room occupancy was only 40%. Over the past two Eids, all 200 rooms have been fully booked for four to five consecutive days.
After Eid-ul-Azha, the occupancy rate is now 70 percent, Jisan said, adding that the number of local guests had increased during the pandemic.
"As Cox's Bazar as well as many tourist sites were closed during the pandemic and many people wanted to avoid crowded areas, people chose us," he said.
"If we talk about a global recovery in hotel activity, it is not yet complete," he added.
"In the meantime, inflation has increased significantly in different countries around the world. This is impacting our business," he added.
As the taka depreciated, room rents and overseas travel costs increased. So they either shortened their stay plans or tried to complete their work online, he said.
Among the hotels listed, The Peninsula Chittagong's profit soared 55% to Tk 8.55 crore in the first nine months of the 2021-22 financial year.
During the same period, profits at Sea Pearl Beach Resort & Spa fell 15% to Tk 12.22 crore.
The Unique Hotel and Resorts, the company that owns The Westin Dhaka and Sheraton Dhaka, made a profit of Tk 88.54 crore during the period while it suffered a loss of Tk 9.63 crore during the same period of the previous year, according to data from Dhaka Stock Exchange (DSE).
Saadman Salahuddin, deputy director of marketing communications cluster at Sheraton Dhaka and Westin Dhaka, said, "Now the business situation is better than the pandemic level."
"For example, 85% of the recovery has been in terms of activity compared to the pre-pandemic level," he said.
There are no more travel restrictions now and many people are vaccinated, allowing them to travel with confidence. Thus, the room occupancy rate increases, he said.
Salahuddin said that currently room occupancy was close to pre-pandemic levels. If no other major problems arise, the situation will certainly normalize in the near future, he said.
"Our events are also increasing. The number of events that were happening before the pandemic is not the same as now, but it is getting closer," Salahuddin said.
In the fiscal year beginning in July 2020, hotels and tourism businesses were severely impacted due to Covid 19 as hotels were closed for several months and programs were banned.
Even after they reopened, the hotel business had to be run under various restrictions.
Currently, hotels are focusing more on selling food to support business. Several hotels have also launched take-out or home delivery services.
Sabrina Mridha, Associate Director of Marketing and Communications at Amari Dhaka, said, "Business is picking up. However, we are not yet back to pre-pandemic levels. Business is now better so far compared to the previous year.
She said the room occupancy was still not the same as before. It oscillates between 60 and 70%. Food and beverages and other segments recovered 50-70% from the previous level, she said.
"We are still offering discounts on different segments based on guest type to do full business recovery. Because we are still not getting the target number of guests from the year 2019. That is why our offers are made with this in mind," Mridha said.
"To be honest, we haven't had any problems so far with global inflation and the dollar crisis," she added.
According to the Ministry of Civil Aviation and Tourism, there are currently 17 five-star hotels in the country.