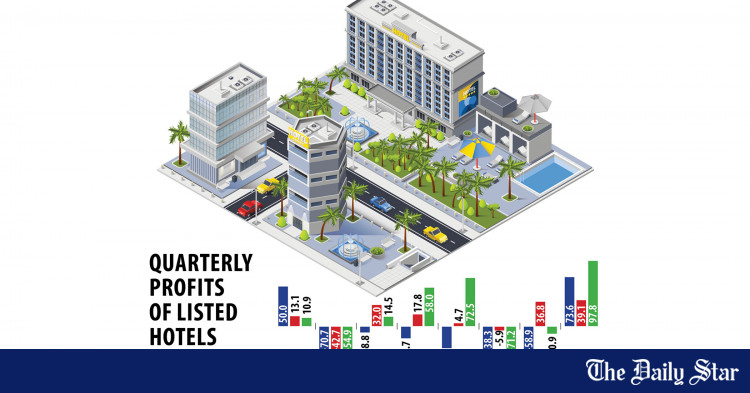 Luxury hotels relieved of the pandemic
Luxury hospitality in Bangladesh rebounded strongly in the first half of the current fiscal year as people started traveling and hosting public events as coronavirus restrictions eased.
Of the three listed hotel companies, two posted higher profits and one returned to profit in the past six months.
"Many countries are not welcoming tourists amid the Covid-19 pandemic, so they are rushing to domestic venues instead," said Md Azaharul Mamun, Secretary General of Sea Pearl Beach Resort and Spa Ltd.
The Royal Tulip Sea Pearl Beach Resort and Spa, a luxury hotel located on Inani Beach in Cox's Bazar, made a profit of around Tk 8.69 crore in the past six months, up 20% year on year .
"As the Royal Tulip, an enterprise of the Sea Pearl Beach Resort and Spa, is located where there are no other large hotels, we have been able to attract more tourists," he added.
Apart from Cox's Bazar, tourists also flock to destinations in Sylhet and Kuakata, among others.
Mamun said the number of corporate events taking place in their hotels was higher before the Omicron variant of Covid-19 led to a new wave of infections and subsequent restrictions on public gatherings.
"So individual tourists have been the main guests lately," he said.
Unique Hotel and Resorts Ltd, which operates The Westin Dhaka, recorded profits of Tk 1.47 crore in the past six months. It had suffered losses of Tk 2.65 crore during the same period in 2020-21.
Similarly, profits at The Peninsula Chittagong rose to Tk 7.59 crore, up 52% ​​year-on-year.
"After the first waves of the pandemic, tourism activity has rebounded stronger than expected," said Jabed Ahmed, chief executive of the Bangladesh Tourism Board.
"As a result, we saw over two million tourists before the Omicron variant was released," he added.
The reason for the high influx of tourists is that even those who normally travel outside the country have not been able to do so lately as borders across the world have been closed to prevent the spread of Covid-19 .
The Omicron variant has had a similar effect in Bangladesh, with tourist numbers declining in recent months.
"But now the occupancy rate is going up again," Ahmed said.
A senior executive at a Dhaka-based luxury hotel, preferring anonymity, told the Daily Start that his business had been hit hard by the pandemic.
"But after the situation started to improve and corporate programs resumed, our hotel occupancy rate recovered to 60-65% of pre-pandemic levels," he said. declared.
However, many companies are now canceling bookings as they run programs online amid fears of the Omicron variant.
"We are feeling the impact again. However, the situation is still better than at the initial stage of the pandemic," he added.