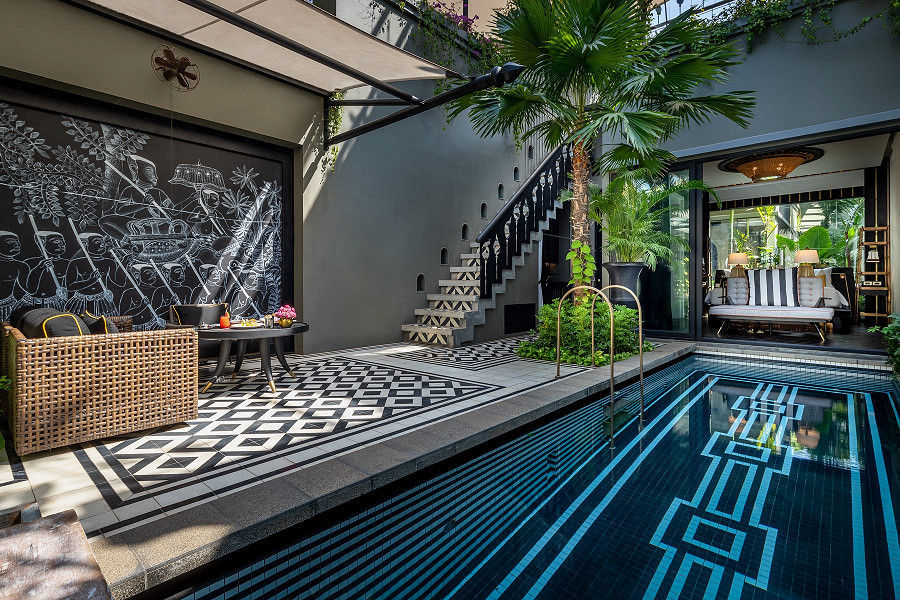 The best luxury hotels in Siem Reap for your next trip to Cambodia
Are you planning to visit Siem Reap, Cambodia, to discover Angkor Wat, or simply to spend a relaxing holiday?
As a travel guide, we've compiled a list of five luxury hotels in and around Siem Reap for your next trip to Cambodia.
Cambodia's second largest city, Siem Reap is considered the epicenter of Cambodian culture thanks to its cultural villages, historical sites and, of course, the country's most popular tourist attraction: Angkor Wat.
Apart from French colonial architecture and Chinese-style architecture, the city is also interspersed with an assemblage of fine luxury hotels. As a travel directory of where to stay when traveling here, below is a compilation of five luxury hotels in and around Siem Reap, Cambodia.
5 of the Best Luxury Hotels in Siem Reap, Cambodia
First up we have the exquisite Amansara. Once a residence for guests of King Sihanouk and now a masterpiece of 1960s New Khmer architecture, this Aman property is rich in history and culture. Amansara embodies tranquility through tangible amenities such as manicured gardens, a curvilinear swimming pool and a canopy of mature trees, as well as services such as wellness practices and treatment rooms. Spiritually enriching activities include 'Forest Therapy', 'Monk-Led Forest Walking Meditation' and 'Hail the Sun'. In terms of accommodation, guests have a choice of three options: 'Pool Suite', 'Courtyard Suite' and 'Suite', all of which are contemporary light-filled expanses fitted with floor-to-ceiling windows and a minimal color palette . .
For travelers who want to book a stay in an elegant and luxurious hotel, it has to be the Raffles Grand Hotel d'Angkor. A stone's throw from the ruins of the Angkor temple, the historic five-star hotel combines the treasures of its rich history with contemporary comfort. Guests are spoiled for choice here as the wide selection of accommodation ranges from rooms to suites to villas, with each category having sub-categories. Originally established in 1932, the Raffles Grand Hotel d'Angkor is considered a landmark in the city of Siem Reap.
Located in the French Quarter of Siem Reap, Shinta Mani Angkor and Bensley Collection Pool Villas presents itself as an upscale boutique property boasting an eclectic and exquisite design permeated throughout the property. Located in the Shinta Mani Angkor Gardens, the Bensley Collection Pool Villas is an exclusive assemblage of ten villas designed by renowned architect and hotel designer Bill Bensley. The ten bi-level residences are outfitted with private gardens, private pools, outdoor tubs, custom-designed furnishings, bold murals, and eye-catching amenities. Plus, the look of luxury is enhanced with Bensley Butlers who will take care of your every need.
Fourth on our list is a property designed by eco-conscious people for eco-conscious travelers: Zannier Hotels Phum Baitang. Nestled amidst lush gardens and rice paddies, the hotel is home to 25 'Terrace Villas' and 20 'Pool Villas', all of which resemble traditional stilt farmhouses with wooden interiors and warm fittings. The "Green Village" emphasizes sustainability through several sustainable practices, including employing local rice farmers, installing clean water production on site, and using local produce. During your stay here, expect soulful simplicity, Khmer traditions, cultural splendor and aromatic flavors.
Housing 39 Khmer-style suites beautifully surrounding a courtyard pool, Anantara Angkor Resort is a luxury resort recommended for travelers who want to spend their days exploring the city and their nights resting in luxury. The centrally located all-suite property houses ten distinct types of suites, all of which feature teakwood intramural parquet flooring and fine Khmer silks. All ten suites are designed to cater to different demographics, ranging from families to couples. Here, guests are invited to immerse themselves in the rich history of the ancient kingdom that reigns inside and outside the walls of Anantara Angkor Resort.